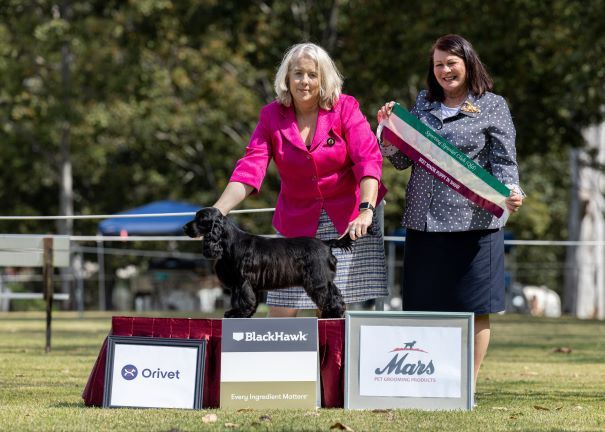 Brayroan Cocker Spaniels has been established since 2010.
Dogs Australia (ANKC) Registered Breeder & Exhibitor of Quality Solid (Black, Gold & Black and Tan) and occasional Parti (Blue &
Orange Roan) Cocker Spaniels. Raised in a loving family environment with only the best intentions & breeding for a purpose i.e. to
Improve the Breed.
I have been successfully exhibiting since 2010.
As a retired Veterinary Nurse and a current Accredited Orivet DNA Collector, I am passionate about the health and well being of our breed. We breed our English Cocker Spaniels for health, type, temperament, soundness & quality. We breed solids & the occasional parti-colour.
Carefully bred puppies from English, Australian & US lines are available from time to time as we only breed a litter occasionally for our own interest.
My dogs and puppies are all house reared, no kennels. Well socialised with family, indoor & outdoor noises and other pets.
DNA tested clear or clear by parentage -
Progressive Rod Cone Degeneration (prcd)-(PRA)
Familial Nephropathy (FN)
Autosomal Hereditary Recessive Nephropathy (AHRN)
Exercise Induced Collapse (Retriever Type) (EIC)
Phosphofructokinase Deficiency (Spaniel Type) (PKFD)
Black Hair Follicular Dysplasia (BHFD)
Acral Mutilation Syndrome (SPANIEL & POINTER TYPE) (AMS)
Bernard-Soulier Syndrome (Cocker Spaniel Type) (BSS)
Adult Onset Neuropathy (AON)
Dogs Australia: Officially Registered Canine Health Information Database – (ORCHID)
Canine Hip and Elbow Dysplasia (CHED)
DAMS and SIRES - Hip and Elbow Scored
Dogs Australia: Officially Registered Canine Health Information Database – (ORCHID)
Australian Canine Eye Scheme - ACES EYE CERTIFICATION – (Physical Eye Test)
Goniodysgenesis (G) Unaffected
Progressive Retinal Atrophy (PRA) Unaffected
Member of Dogs QLD, Cocker Spaniel Club of QLD, Cocker Spaniel Club of Victoria & The Cocker Spaniel Society NSW.
I am located in Deception Bay, (North Brisbane) Queensland. Please contact me in regards to any questions, puppy enquiries or matings.
Thankyou,
Julie Newbold.
Dogs QLD Member - 4100145145
Please contact Dogs QLD on email: [email protected] to verify my membership.
Breeder Supply Number : 4100145145
Contact Details
Julie
North Brisbane, QLD, Australia
Phone : 0412788524
Email :
[email protected]
12041 Visitors