Puppies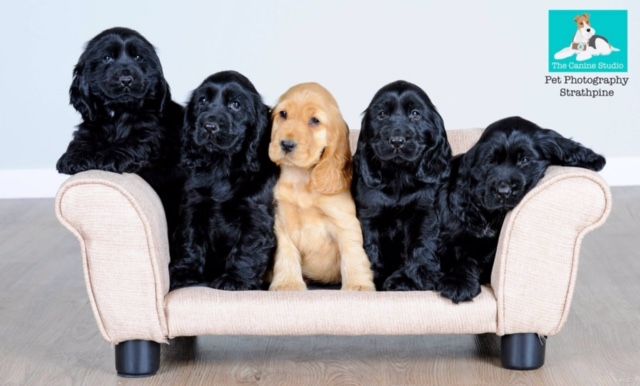 ​ ​
NEXT SOLID LITTER DUE APPROX MARCH 2024 - Possible Colours - Black, Gold, Black and Tan
If you wish to express an interest for a puppy please complete the attached questionnaire and return via email :
Please call 0412788524
There is a Sale/Purchase Agreement and all puppies will be registered with Dogs QLD.
DAMS and SIRES DNA Health Tested Clear or Clear by Parentage for Breed Specific Diseases -
Progressive Rod Cone Degeneration (prcd)-(PRA)
Familial Nephropathy (FN)
Autosomal Hereditary Recessive Nephropathy (AHRN)
Exercise Induced Collapse (Retriever Type) (EIC)
Phosphofructokinase Deficiency (Spaniel Type) (PKFD)
Black Hair Follicular Dysplasia (BHFD)
Acral Mutilation Syndrome (SPANIEL & POINTER TYPE) (AMS)
Bernard-Soulier Syndrome (Cocker Spaniel Type) (BSS)
Adult Onset Neuropathy (AON)

DAMS and SIRES -
DAMS and SIRES
ACES EYE CERTIFICATION – (Physical Eye Test)
Goniodysgenesis (G) Unaffected
Progressive Retinal Atrophy (PRA) Unaffected
Puppies are raised at home as part of the family (no kennels).
Puppies are raised on Royal Canin Wet & Dry Food.
Puppies are well socialised with other family members & pets, everyday indoor & outdoor noises etc.
Puppies go to their homes with : DNA Parentage verification, copies of Health Certificates of parents, Registered with Dogs QLD, Veterinary Health Certificate, 1st Vaccination, Microchipped, Wormed fortnightly, Royal Canin Puppy pack & information folder.
You are welcome to view my Facebook/Instagram pages to see current and past dogs/puppies.
https://www.facebook.com/Brayroan
​Interstate transport via Bay City Pet Travel, can be arranged at your expense.
http://baycitypettravel.com.au/
http://www.facebook.com/BayCityPetTravel​​​
Contact Details
Julie
North Brisbane, QLD, Australia
Phone : 0412788524
Email :
[email protected]